Rating: 4 stars
Yelp: Himalayan Cuisine
Food: 4 stars
1) Chicken Tikka Masala: I always try this dish at every Indian place because it's the staple Indian dish I use as a baseline to measure the caliber of the food. This curry dish here was fantastic! It wasn't too creamy and the tomato base did not overpower the dish. I asked for level 5/10 in spicy-ness while my friend asked for 10/10. I tasted both and there really wasn't much difference between the two. In fact, I thought the only thing this curry lacked was more spice.
2) Butter Naan: Unlike other Indian places I've been to, every entree comes with either rice or butter Naan. The Naan was spot on! Loved the slightly burnt and crispy outside with the fluffy texture inside; they didn't overdo the thin butter coating on the outside.
3) Garlic and Cilantro Naan: Just like the butter Naan but had the extra fragrant garlic and cilantro taste to it. Nicely executed!
Ambiance: 2 stars
I don't remember what used to be next to this restaurant but whatever it was, it went out of business and this place took it over and expanded into it. My friends and I got seated in the "expansion" area which hadn't completely finished getting remodeled yet. The dining area that we got seated at was large, hollow, and empty feeling. I'm sure after all the remodeling/renovations are finished the expansion area will have more of a restaurant vibe, but last night's dining experience felt like I was just seating in the middle of an abandoned warehouse.
Service: 3 stars
I understand that the place was small and the waiters were limited, but I felt like our waiters were very impatient with us. He would swing by to ask us what we would like to order and when we hesitated, he just quickly blurred out that he would give us more time while he was walking away from us already. This happened twice (as our party was quite large and we did have difficulty deciding what we would like to order). But aside from that, they were pretty good about refilling water and tending to our needs.
Price: 4 stars
Typical for Indian food, maybe bordering the more expensive end, but considering that the entrees include the Naan bread already, the prices are not bad. The meal came out to be $13 (including tax and tip already) and I still had some food to take home to make into another meal. Pretty good deal!
Overall:
I'm pretty happy with the food and that's what matters the most to me when I'm dining out, so I'd be happy to come try this place again! Hopefully when I come next time, they will have completed the remodeling and I won't feel like I'm sitting in the middle of an abandoned warehouse anymore.
Butter Naan (complimentary with entree)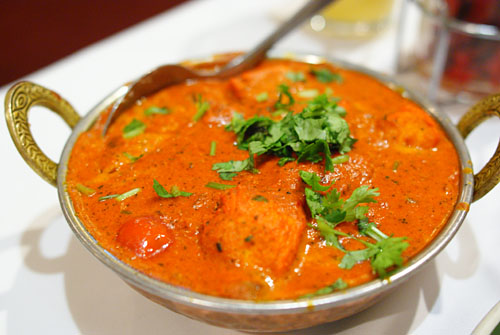 Chicken Tikka Masala